Monographien und Sammelbände

Clemens von Haselberg:
Erzählen von China: Genrespezifische Identitätskonstruktionen im Wuxia-Film.
Wiesbaden: Metzler 2019.

Tim Trausch:
Affekt und Zitat. Zur Ästhetik des Martial-Arts-Films.
Wiesbaden: Metzler 2018.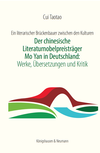 Taotao CUI:
Ein literarischer Brückenbauer zwischen den Kulturen. Der chinesische Literaturnobelpreisträger Mo Yan in Deutschland. Werke, Übersetzungen und Kritik. Würzburg: Königshausen und Neumann 2015.

Clemens von Haselberg und Stefan Kramer (Hrsg.):
Zeit, Raum und die Wirklichkeiten Chinas.
Münster: Lit-Verlag 2017.

Martin Müller:
He Lin (1092-1992): Neukonfuzianer, Idealist und Kulturphilosoph im China des 20. Jahrhunderts. Eine intellektuelle Biographie. Wiesbaden: Harrassowitz 2015.

Martin Müller:
He Lin (1902-1992). Eine Bibliographie. Berlin: Staatsbibliothek zu Berlin 2014.
Merle Schatz:
Sprache und Identität der Mongolen Chinas heute.
Köln: Köppe 2014.

Stefan Kramer (Hrsg.):
Sinologie und Chinastudien.
Tübingen: Narr 2013.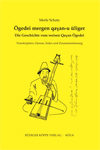 Merle Schatz:
Ögedei mergen qayan-u üliger. Transkription, Glossar, Index, Zusammenfassung.
Köln: Köppe 2013.

Klaus Mühlhahn und Clemens von Haselberg (Hrsg.):
Chinese Identities on Screen. Berliner Chinahefte Bd. 40. 2012.

Franziska Ehmcke und Martin Müller (Hrsg.):
Reisen im Zwischenraum: Zur Interkulturalität der Kulturwissenschaft. Festschrift für Helmolt Vittinghoff zum 65. Geburtstag. Würzburg: Ergon Verlag 2012.

Stefan Kramer / Peter Ludes (Hrsg.:
Networks of Culture.
Münster: Lit Verlag 2010.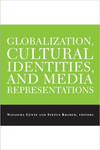 Stefan Kramer/Natascha Gentz (Hrsg.):
Globalization, Cultural Identities, and Media Representations.
New York: SUNY Press 2006.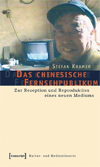 Stefan Kramer:
Das chinesische Fernsehpublikum. Zur Rezeption und Reproduktion eines neuen Mediums.
Bielefeld: Transcript 2006.